July 4th Regatta Update
Date Posted: Friday, June 22nd, 2018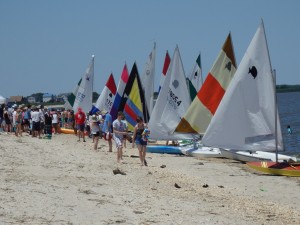 All,
Just a short note of reminder regarding the 11th annual Slaughter Beach Sail Club Regatta as well as a couple of other great notes:
Remember, the Regatta is on Thursday, July 4th beginning at 10:00 AM. It is at Delaware Avenue, North. Lots of fun stuff for the kids and adults who act like kids – This year we have the new "Walk the Plank" contest. No t-shirt required to be brought this year. Trying some new things for the second decade!!!

Mono hull race (Sunfish)
Catamaran race
Adult Kayak race
Kids Kayak race
Boogie Board race
Adult pie eating contest
Kids pie eating contest
Walk the plank contest
All of this in no particular order, so just show up at 10 and have fun most all of the day
Know that in the evening, we plan on having fireworks – weather permitting
We have awesome new Slaughter Beach flags that have been developed and produced by Joy Rust-Feulner and you can reach her at joyfeulner@verizon.net She ran a limited edition of approximately 50 pieces this spring. They will be offered at cost $50.00 . It looks like they may get here closer to the end of the month. You can stop by 437 Bay Avenue and see Joy or Terry and purchase our community flag. Mine is getting to the point of needing replacement – so.
Lastly, you all know my passion for sailing, as well as my passion for hooking up people and boats. Especially kids, and getting them involved in sailing. There is an awesome opportunity for someone to pick up a beautifully well maintained Sunfish sailboat with a very new sail and a new rudder and tiller assembly. The family has decided to venture into a newer boat to see if that will help them pull off a July 4 victory. So a few points here:
After June 21st – swing by 437 Bay Ave and check out a classic that has been maintained and upgraded. This would be the perfect boat to start a tradition of understanding the bay, with your child, grandchild, nephew or niece. The Commode Ore will throw in lessons if you need or wish. (Not sure if you still want this in here
Know that it isn't the boat – it's the captain. Heather & Kim, the new boat may make you look cooler, but you still have to get around the south buoy without running into the Commode Ore.
Also – team Ward/Kniep/Harris has a new fleet that all have undergone special surgeries and barely legal adjustments for a better part of three months at undisclosed locations in Australia and France. We are prepared to take on all comers, and we absolutely know that it isn't the boat, but we also wanted to look cool.
Lastly, I have returned from Italy and Illinois after many weeks of keeping a low profile after the unfortunate incident. The SBSC Legal Team (SBSCLT) will not let me go into significant details in public, but just know that Illinois and Italy both have extradition agreements with Delaware and in particular, Sussex County. Needless to say, this constant press by the forces against all things good in Slaughter Beach is eating up most all of the SBSC petty cash, so the Ward Foundation has stepped up to the plate to assist in mounting a robust defense.
We do not expect any final actions to take place before or on the 4th, but know that our esteemed SBSC Legal Defense firm of Dewey, Cheatem and Howe (SBSCLDFDC&H) is standing by with plenty of barely sensible filings to present to our legal system, when and if necessary.
I cannot tell you how much we are looking forward to this year's celebration.
See you all on the water, especially on the 4th!
Prosit,
Harry Ward
Commode Ore
Slaughter Beach Sail Club