July 4th Regatta Update
Date Posted: Friday, June 22nd, 2018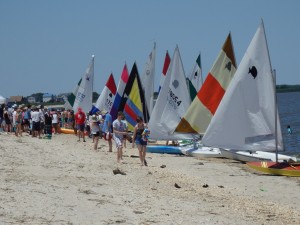 2018 is a 10 year anniversary year, much will be happening this year with The Sail Club. Looking forward to a great season and a great Regatta!
Let's me get the important stuff out of the way:
The tides are with us in 2018 and so we will be able to pull off a race mid day as high tide is estimated to be at 2:05 PM.
The racing and celebrations will happen on the 4th, which is a Wednesday. The scheduling committee (SBSCSC) has been steadfast in celebrating this function on the actual 4th of July unless the weather makes it impossible – which is always a possibility.
Given the tide timing, we will be able to pull this off at Delaware Ave., North, which is centrally located to all of the beach community.
We have had suggestions from many that they loved the Labor Day event last year, especially the food. It is too much for the SBSC committees to arrange separately, but by all means – bring a dish to pass if you wish, but we will also need additional tables – so bring a few of those as well. As usual, we will have water and Philly Phanatic hotdogs (did you see that poor woman's eye?)
The schedule:
Where – Delaware Avenue, north.
When – activity starts at 12:00 noon, Wednesday, July 4th, 2018.
Activities, in no particular order, but likely to be in this exact order:

Kids boogie board race
Adult kayak race
Pie eating contest
Kids kayak race
T-shirt decorating (and we have a great one this year, courtesy of the SBSC Apparel and Swag Development Department (SBSCASDD). Bring a white T-shirt of your size.
Monohull Race (that's typically known as the Sunfish race for those of you that don't know what a monohull is).
Wet T-shirt contest -Family Friendly
Catamaran race
Closing ceremonies and long winded speeches and kibitzing by all who lost one or more contests.
Stick around for the totally illegal and not to be discussed fireworks that evening. Usually is a good time with some recreational fires and adult beverages available.
Prosit
Harry Ward
Commode Ore, Slaughter Beach Sail Club