Resilient Community Day Public Workshop
Date Posted: Friday, June 30th, 2017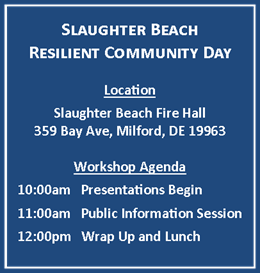 Resilient Community Day Public Workshop
Saturday, July 22, 2017 at 10:00 am at the Slaughter Beach Fire Hall
Learn how the Town of Slaughter Beach can manage risks from flooding and extreme heat. Prepare today for tomorrow's hazards!
Find out how the Resilient Community Partnership is improving the capacity to plan for and recover from hazardous events in Slaughter Beach. Presentations will begin promptly at 10:00am. Buffet lunch will be provided! Prior registration not required.
Residents & stakeholders are invited to the Resilient Community Day to:
Hear the results of the DNREC Delaware Coastal Programs' Resilient Community Partnership study;
Learn about the new flood warning system that will be installed on Cedar Beach Road and Slaughter Beach Road;
Learn about emergency preparedness tips from subject matter experts from DelDot, DEMA, and DNREC; and
Promote a safer, more prepared community that can bounce back from flooding and other hazardous events.