They're Back
Date Posted: Saturday, April 9th, 2016
Dawn and Willy have returned to their nest again this year.  They arrived several weeks ago and can be seen fishing in the area and adding to their nest.  This is the third year they have returned.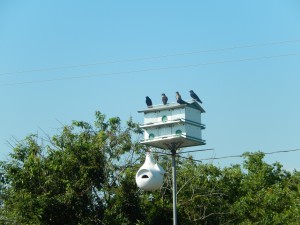 Purple Martins have also been seen scouting out housing for the season.  If you are a Martin lover, it's time to clean out their houses and get them up.
Hummingbirds should be arriving soon, and Diamondback Hatchlings will be emerging soon and crossing the road to the marsh.